Introduction
If you have multiple sales that you need to enter into PHP POS, you can place the information in an excel sheet and batch upload all of the information at once. This can save you time if you performed sales outside of the system and now want to add them in or if you're migrating sales information from a different POS system.
Batch Import Sales
To batch import sales, navigate to the Sales feature.

Click the ellipses (...) above the customer information section, and select Batch sale.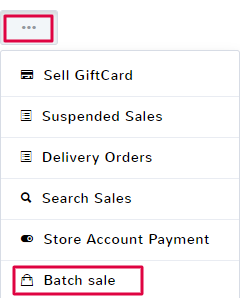 The import wizard will open up. Click to Download Excel Template for Batch Sale so that you have the data columns you need for a successful import. The excel sheet will download to your device, where you can add the required sales information.

Once your excel sheet is ready, click Choose file and select your excel sheet. Click Save to import the sales into your system.