Introduction
Store Accounts allow customers to buy on an account that is tracked by the store like a credit line for the customer. This provides a flexible way for a customer to pay for products at a later time.
In This Article:
Setup Store Accounts
To set up your business for customer store accounts, navigate to the Store Config feature in the left menu.

In the top search bar, search customer store. In the Store Accounts section, check the box for Customers Store Accounts.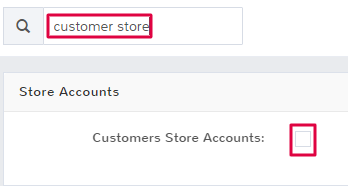 Click Save at the bottom of the page to keep your changes. You will now be able to use store accounts in your business.
Use Store Account at Checkout
Once you have set up store accounts for your business, you will see a new payment method option when performing a sale. Select Store Account to apply a customer's purchase to their account.

Note: You can see the current balance of a customer's store account just below their name in the customer information section.
Once you have selected Store Account as a payment method, you can continue a sale as normal. The receipt for the sale will include the customer account balance.
Paying on a Store Account
When a customer is ready to pay on an account balance, navigate to the Sales feature in the left menu.

Click the green Sale button at the top of the screen and select Store Account Payment.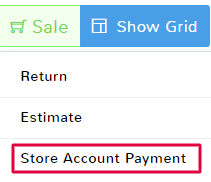 Add the customer who is paying on their store account. For more information on the customer field in sales, see the article here.
In the item queue, click to enter the payment amount being made.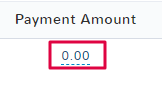 Just like in a normal sale, select the payment method and complete the sale to save the payment on the customer store account. For more information on sales, see the documentation here.