When you send a transfer request, you can check it's status by going to the Incoming Transfers queue.
Navigate to the Receiving main feature page.

Once the page opens, click the ellipses (...) to see more options and select Incoming Transfers. This opens the Incoming Transfers page where you can see an overview of inventory transfers your location is expecting.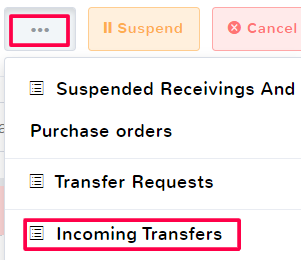 Note that this will not show any transfers that are going out from your location, only ones you are expecting in.
If you need to make any edits or see details for your request, click Unsuspend to open the transfer request.

Any comments left will be visible in the queue or the main request screen.