Introduction
PHP POS offers a great payment processing partnership with coreClear that lets you easily integrate payments with your system. The breakdown below tells you how to get set up.
In This Article:
Sign Up
First, sign up with PHP POS Payments powered by coreCLEAR. You can sign up here. Once you have signed up, you'll receive an enrollment letter with all of the information you need.
Hardware Setup and Software Installation
The letter you received on enrollment will detail how to download the coreCLEAR software.
The hardware will be mailed to you. The only hardware requirements are setting up your new card reader with a power source, internet source, and your PHP POS software device.
Information about setting your reader up with internet access can be found below:
Configure PHP POS
Once you have the hardware set up and software installed, it's time to configure PHP POS to communicate with the reader.
Login to PHP POS and navigate to Locations in the left menu.

Click to Edit the location you want to set the new credit card processor for.

Scroll down to check the box for Enable Credit card Processing. A dropdown will appear below, click to select PHP POS Payments (Powered by coreCLEAR). In the fields below, fill out the following information from your coreClear software set up:
coreClear API Key

coreClear Bearer Token

coreClear Signing Key
Note: This information will be provided to you by PHP POS when signing up.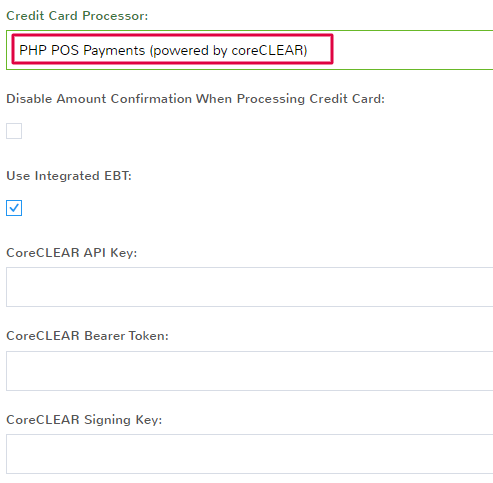 Once you have added all the verification information, add the Terminal ID for the appropriate register.

Help
If you have questions or need help setting up the reader, call (888) 272-5598.